Union Agriculture Minister Shri Tomar launches Seed Traceability portal and mobile app
SATHI portal will prove to be revolutionary in the Agriculture sector - Shri Tomar Union Agriculture and Farmers Welfare Minister Shri Narendra Singh Tomar today launched the SATHI (Seed Traceability, Authentication and Holistic Inventory) Portal and
SATHI portal will prove to be revolutionary in the Agriculture sector – Shri Tomar
Union Agriculture and Farmers Welfare Minister Shri Narendra Singh Tomar today launched the SATHI (Seed Traceability, Authentication and Holistic Inventory) Portal and Mobile App, a Centralized Online System for seed traceability, authentication and inventory designed to deal with the challenges of seed production, quality seed identification and seed certification. It has been developed by the NIC in collaboration with the Union Ministry of Agriculture and Farmers Welfare on the theme of 'Uttam Beej – Samriddh Kisan'. On this occasion, Shri Tomar said that the Government of India is constantly trying to overcome the challenges and difficulties faced by Agriculture sector through various schemes and programmes. SATHI portal is an important step in this direction. When its use starts right to the grassroot level, it will prove to be a revolutionary step in the field of agriculture.
Chief guest Union Minister Shri Tomar said that Agriculture is of great importance to India. This importance has increased in the changing scenario. Earlier, we had only the aim of fulfilling our needs in agriculture, but at present the expectations of the world are also increasing from India. In such a situation, it is our responsibility to help feed the world while dealing with all the challenges of agriculture, climate change etc. Shri Tomar said that seeds, pesticides, fertilizers and irrigation play a major role in agriculture. Inferior quality or spurious seeds affect the growth of agriculture. This causes loss to the farmers, it also affects the agricultural production of the country. It has been said from time to time that we should devise such a system so that the market of spurious seeds is checked and quality seeds reach the farmers, for this the SATHI portal has been launched today. In this era of climate change, new types of pests are affecting the crops, on which agricultural scientists should focus their research to eradicate the menace. If we are able to save this loss, then we can save 20 percent of the entire agricultural production.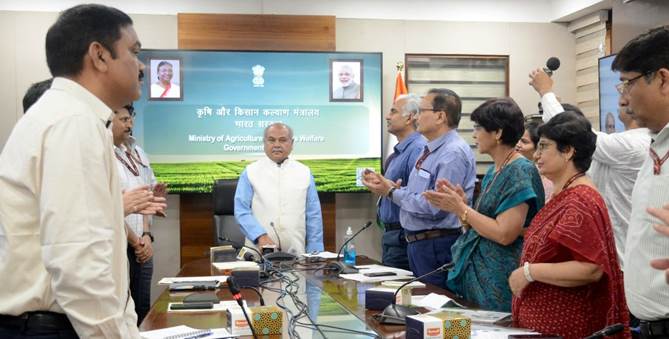 Union Minister Shri Tomar said that the first phase of SATHI (Seed Traceability, Authentication and Holistic) portal has just been launched. He directed the officials to ensure that the second phase does not take long. Efforts should be made to increase awareness so that the farmers get full benefit from it. There will be a QR code under this system, through which the seeds can be traced. Training should be imparted through Indian Council of Agricultural Research (ICAR), Krishi Vigyan Kendras and State Governments. He urged all the states to join the Seed Traceability System.
SATHI portal will ensure quality assurance system, identify the source of seed in the seed production chain. The system will consist of integrated 7 verticals of the seed chain – Research Organisation, Seed Certification, Seed Licensing, Seed Catalogue, Dealer to Farmer Sales, Farmer Registration and Seed DBT. Seeds with valid certification can only be sold by valid licensed dealers to centrally registered farmers who will receive subsidy through DBT directly into their pre-validated bank accounts.
Secretary, Ministry of Agriculture and Farmers Welfare, Shri Manoj Ahuja, Joint Secretary (Seed) Shri Pankaj Yadav and other officers were present in the programme, while key officials of the States and ICAR joined through video conference.
—-