Let's Go Clubbing – Looking at a Profitable Asset Class That Is Gaining Popularity
by Shailee Sharma May 3, 2022 Hotel Development Clubs have been around for almost as along as formal society has. They began in the 18th century in Britain for the aristocracy to convene at a private
by Shailee Sharma May 3, 2022 Hotel Development
Clubs have been around for almost as along as formal society has. They began in the 18th century in Britain for the aristocracy to convene at a private location to socialise, away from the public eye. The first few clubs such as White's and Brooke's in the West End of London became places that had a strict filtering process and only allowed the elite. This concept gained in popularity resulting in clubs mushrooming across the country with London becoming home to ~400 clubs by the end of the 19th century. With Colonialism, this concept travelled to British Colonies, including India.
Indian cities that were of importance to the British boast of examples of the popular Club culture with the Cawnpore Club in Kanpur, the Bengal Club, Calcutta Club and the Tollygunge Club in Kolkata, the Secunderabad Club in Secunderabad and the Bombay Club in Mumbai. These Clubs stand tall even today, entertaining and dining the affluent. The last two decades have witnessed contemporary Lifestyle Clubs in India attempting to recreate the appeal of these old-world Club yet offering networking opportunities and new-age services in keeping with the times.
While Clubs exist in the modern world across categories such as Sports Clubs, Country Clubs, Political Clubs, Condominium Clubs and Night Clubs, this article focuses on and attempts to compare traditional Social Clubs and the contemporary Lifestyle Clubs in India.
Traditional Clubs – Facilities
Traditional clubs like the ones listed above offer facilities such as subsidised restaurants, banqueting facilities that may be outsourced, games rooms including billiards/ snooker, a card room and table tennis, carrom and chess. Additionally, outdoor sports facilities such as golf, tennis and football may also be offered at nominal prices. Some clubs come equipped with fitness centres, swimming pools, spas and salons. Most clubs also offer a limited inventory of accommodation (5-30 keys). Needless to say, most traditional clubs are large complexes spread across expansive land parcels ranging from a few acres to a few hundred acres.
Traditional Clubs – Customer Segmentation
With memberships typically north of 1,500 members and going up to 6,000 members in some cases, and with varied customer segments generating demand at these establishments, a major portion of the clientele is formed by retired business owners, socialites and politically established individuals who frequent the clubs for social purposes such as a meal, a workout or some social gathering. This is followed by large-scale banqueting in the form of Social events such as weddings and anniversary/ birthday parties and Corporate M.I.C.E. promoted by a member. Visitation, also known as footfall, at these clubs is ~10% of active members on weekdays and goes up to ~15% on weekends. Several of these legacy establishments no longer have the ability to offer fresh memberships. There is some prestige and pomp that is therefore attached to holding such a membership amongst its patrons.
Contemporary Clubs – Facilities and Customer Segmentation
A more recent spin from traditional clubs are new-age lifestyle clubs such as the Soho House in Mumbai and The Quorum Club in Mumbai and Gurugram. These clubs essentially serve the same purpose of offering a space to like-minded people to mingle and socialise however, they are more compact establishments without the extensive outdoor sporting facilities. Furthermore, they are heavily focused on curating events that will enhance member engagement such as live performances, book releases, standup comedy shows, restaurant pop-ups, theatrical events, wellness sessions and fireside chats with celebrities. These clubs are vibrant spaces that cater to the younger age group of 25 – 55 years unlike the traditional clubs which cater to an older demographic. These lifestyle clubs come with multi-purpose venues that can be used for events or private parties based on the requirement. Banqueting at contemporary clubs is much smaller as compared to traditional clubs and therefore social visits becomes the largest demand generator. Visitation here is ~15% of active members on weekdays and goes up to ~25% on weekends.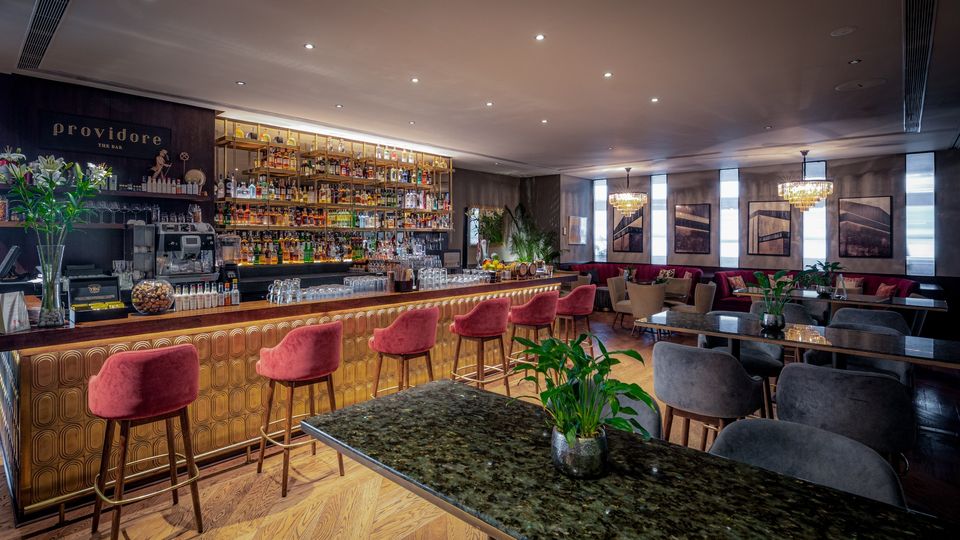 Picture Courtesy: The Quorum, Gurgaon
Club Affiliations
Affiliations are an efficient way for clubs to not only provide members with a lucrative benefit whilst travelling, but also to establish themselves as a reputed player by tying up with other credible clubs across the world. Lifestyle clubs today continue to compete with the age-old traditional clubs. In an effort to offer similar privileges and enhance their own popularity, the concept of club affiliations has continued into these contemporary clubs. As globe-trotting becomes the norm for both the older and affluent as well as the younger professionals, lifestyle clubs offer club affiliations around the world with both contemporary as well as traditional clubs. Affiliations essentially offer cross-club privileges to members; however, these benefits remain limited when compared to a club's own members. For example, visiting members most often do not have signing privileges at affiliated clubs and must pay cash to settle any consumption. Similarly, visiting members are usually not permitted to bring guests along to an affiliated club. The primary benefit of club affiliations for visiting members is access to clubs of repute at other destinations. Further, club affiliations are typically not monetary in nature i.e., there is neither a revenue-share agreement between affiliated clubs nor is there any kind of referral fee generated in most affiliations.
Membership Models
In the club business in India and in most new-age club markets around the world, there exist two main Membership Models. Traditional clubs that were popularised during the British era have always been societies that the affluent classes have frequented and the less affluent have aspired to be part of. Thus, these clubs have typically charged a high initiation/ membership fee (up to ₹30 lakh) as a one-time fee. Subsequently, these clubs charge a nominal monthly/ annual subscription fee (as low as ₹600 per annum) to allow members to continue being members. Further, such clubs offer subsidised Food and Beverage options that are priced far below (average spend of ~₹400 per person) the competitive market of stand-alone restaurants as well as extremely low pay-per-use prices (average spend of ~₹150 per person) for sports and recreation facilities. For these clubs, prestige is a greater value-driver than profits and most such establishments are member-/ trust-run. Operational revenues are small and sometimes barely cover the cost of operations.
New-age lifestyle clubs, on the other hand, have realised the need to be more affordable in order to attract a younger, more vibrant member-base and therefore employ a different membership model. Contemporary clubs charge a low initiation/ membership fee (~₹2 lakh on average) combined with a relatively higher annual subscription fee (~₹75,000 per annum) for continued membership. Additionally, these clubs offer Food and Beverage options that are competitive with or priced only slightly lower than stand-alone restaurants. This model is managed by established brands/ club operators and is more inclusive in that it allows a younger demographic to access the club culture by paying a smaller upfront fee while ensuring a greater degree of profitability owing to higher revenues from Food and Beverage, Spa, etc.
Profitability
Although membership sales contribute to a significant in-flow in the initial years of a traditional club's operations, operating revenues remain small. In the case of traditional clubs, banqueting revenue has the highest contribution (up to 50%) followed by Food and Beverage, Rooms and Other Revenues. Here the flow through to the bottom line is not considerable and most clubs just break even. In the new-age lifestyle clubs, F&B revenues contributes to ~65% of the revenue followed by Rooms that contributes ~10%, followed by Subscription Fees that contribute another ~20% to the topline. These clubs are able to achieve bottom lines of ~42% – 50%. Including the initiation fees as well as development costs that are comparable to those of an upscale hotel (~₹7,500 – ~₹10,000 per square foot), these establishments offer developers an IRR of ~35% on average.
Clubs in India – The Way Forward
In conclusion, Hotelivate believes that Lifestyle Clubs are a new class of hospitality assets that are profitable to operate as well as to develop. Having said that, we encourage developers to consider the target demographic, location, type of facility as well as service offerings in order to arrive at the prospective number of members that a club can generate demand for as well as comfortably accommodate. The preferred membership model is another key decision that affects the positioning and acceptability of a Club in a market. The Indian Club market offers few experienced Club Operators at the moment but with interested developers and some initial success stories, International Operators are eying the space from a market-entry standpoint.