Convergence Portal between Ministry of Food Processing Industries and Ministry of Agriculture and Farmers Welfare, to support Food Processing Enterprises launched
This convergence will prove to be very important for the Food Processing Enterprises of the country and is a stepping stone to achieve Prime Minister Shri Narendra Modi's dream of an Aatma Nirbhar Bharat and
This convergence will prove to be very important for the Food Processing Enterprises of the country and is a stepping stone to achieve Prime Minister Shri Narendra Modi's dream of an Aatma Nirbhar Bharat and will also boost concept of 'Vocal For Local': Shri Pashupati Kumar Paras
It is the idea of Prime Minister Shri Narendra Modi that all Ministries / Departments of the Government should work together in cohesion to serve the people of the country to the best of their abilities: Shri Narendra Singh Tomar
As a part of its celebration of Azadi Ka Amrit Mahotsav, the Ministry of Agriculture & Farmers Welfare (MoAFW) and Ministry of Food Processing Industries (MoFPI) today jointly launched a Convergence Portal between Agriculture Infrastructure Fund (AIF), Pradhan Mantri Formalisation of Micro Food Processing Enterprises (PMFME) scheme and Pradhan Mantri Kisan Sampada Yojana (PMKSY) at Krishi Bhawan, New Delhi.
The convergence portal was launched in the presence of Shri Narendra Singh Tomar, Union Minister, Agriculture & Farmers Welfare, Shri Pashupati Kumar Paras, Union Minister, Food Processing Industries, Shri Kailash Choudhary, Minister of State for M/o Agriculture and Farmers Welfare, Smt. Anita Praveen, Secretary, M/o Food Processing Industries, and Shri Manoj Ahuja, Secretary, M/o Agriculture & Farmers Welfare along with the senior officials of both the Ministries. Many field functionaries also joined the launch event through the live streaming on Youtube channel of the Ministry.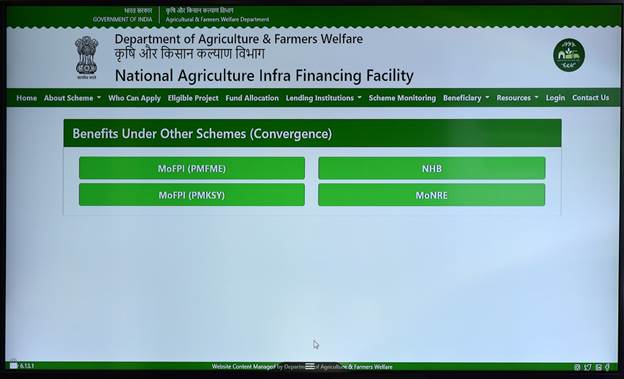 Union Ministers of both the Ministries expressed confidence that this initiative is going to add a new chapter in the lives of Micro Units engaged in food processing.
Speaking on the occasion, Shri Pashupati Kumar Paras said that today's launch will prove to be very important for the Food Processing Enterprises of the country and is a stepping stone to achieve Prime Minister Shri Narendra Modi's dream of an Aatma Nirbhar Bharat and will also boost concept of 'Vocal For Local'.
Shri Narendra Singh Tomar said that it is the idea of Prime Minister Shri Narendra Modi that all Ministries / Departments of the Government should work together in cohesion to serve the people of the country to the best of their abilities.
The Ministry of Agriculture & Farmers Welfare is implementing the Agriculture Infrastructure Fund (AIF) – a medium to long-term debt financing facility started on 08 July 2020 for the creation of post-harvest management infrastructure and building of community farming assets. Benefits under the scheme include 3% interest subvention and credit guarantee support.
Ministry of Food Processing Industries (MoFPI) launched a centrally sponsored PPMFME scheme on June 29th, 2020 as a part of "Aatmanirbhar Bharat Abhiyan" to enhance the competitiveness of individual micro-enterprises in the unorganized segment & promote the formalization of this sector. The scheme provides financial, technical and business support for the upgradation of micro food processing enterprises in the country. Credit Linked Subsidy @35% for the establishment of a micro food processing unit with a maximum limit of Rs. 10 lakh and common infrastructure with a maximum limit of Rs. 3 Cr. are provided for upgradation or setting up of new unit. So far the scheme has benefitted around 62000 beneficiaries engaged in food processing activities. Around 7300 loans have been sanctioned till now, for setting up a new micro food enterprise or to upgrade the existing units, with the subsidy @ 35 % of the project cost. Out of these, around 60% of beneficiaries engaged in Primary Agri produce are eligible and expected to directly benefit from this convergence by getting an additional 3% interest subvention on the rate of interest charged by the Banks.
Pradhan Mantri Kisan Sampada Yojna is a Central Sector Scheme of the Ministry of Food Processing Industries envisaged as a comprehensive package that will result in the creation of modern infrastructure with efficient supply chain management from farm gate to retail outlet. It is an umbrella scheme, having sub-schemes like (i) Infrastructure for Agro-Processing Clusters (APC), (ii) Creation/Expansion of Food Processing & Preservation Capacities (CEFPPC or UNIT), (iii) Integrated Cold Chain and Value Addition Infrastructure (CCI), (iv) Food Testing Lab (FTL), (v) Operation Greens (OG) (vi) Research & Development Scheme (R&D). Under the scheme, there is a provision of 35% grant of Eligible Project Cost for General and 50% for SC/ST/Difficult Areas, subject to a maximum of Rs.5 crores to Rs.15 crores in terms of respective sub-scheme guidelines.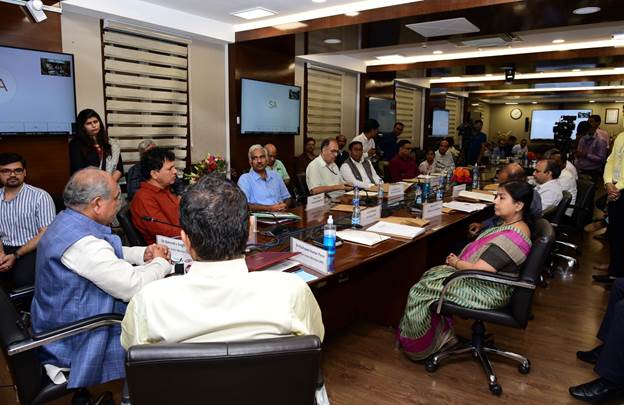 Through this convergence, the eligible beneficiaries under PMFME and PMKSY Scheme availing credit-linked subsidy would be able to avail an additional benefit of Interest Subvention @3% on the interest rate being charged by the banks over and above the 35% of subsidy being provided under the PMFME Scheme.
For the ease of approval of projects under both schemes, the AIF MIS portal has been modified for the acceptance of applications from the beneficiaries under the PMFME and PMKSY scheme. The PMFME beneficiaries would be able to apply directly for the benefit of Interest Subvention on the AIF portal with the DPR approved under PMFME along with the following information:
Application Id generated under PMFME scheme
Sanction Letter
Information of Primary and Secondary processing activities with cost.
Similarly, AIF beneficiaries eligible under PMFME Scheme can seek additional benefits of subsidy by applying in the PMFME MIS portal with the sanction letter under AIF and DPR.
—-