BCAS organizes Aviation Security Culture Week
Theme of Security Culture Week – "See it, Say it, Secure it" Daily average 10 lakhs passengers travelling through airports in India Security is everyone's responsibility – Mr Zulfiquar Hasan, DG, BCAS The Bureau of Civil Aviation Security
Theme of Security Culture Week – "See it, Say it, Secure it"
Daily average 10 lakhs passengers travelling through airports in India
Security is everyone's responsibility – Mr Zulfiquar Hasan, DG, BCAS
The Bureau of Civil Aviation Security (BCAS), under the Ministry of Civil Aviation (MoCA), inaugurated 'Aviation Security Culture Week' at its headquarters in New Delhi which will last till 5th August 2023. The theme of the 'Aviation Security Culture Week' is "See it, Say it, Secure it".
Shri Zulfiquar Hasan, Director –General, BCAS, addressing the media said, "The idea behind this week is to make passengers aware about prohibited things they should not carry while travelling".
"The govt. is committed to phase wise introduce body scanners at all major airports in next one and half year. Security is everyone's responsibility, from screeners to cleaners, from industry leaders to frontline workers, and from taxi drivers to those working in airport retail outlets," he added. He expressed confidence that passengers will have smooth travel during the upcoming festive season with an increase in the security capacity at various airports.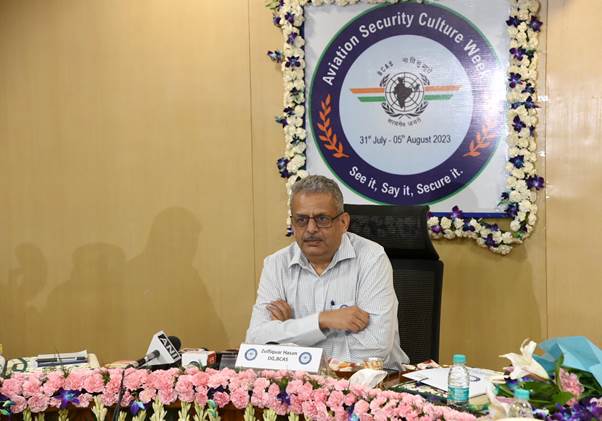 Daily average passengers travelling through 131 airports of India is approx. 10 Lakhs. At security check points approximately 11,000 screeners are deployed, who screen around 5 lakhs departing passengers and 9 lakhs handbags every day.
To help the screeners, around 600 baggage X-ray machines and 1000 DFMDs are deployed at security checkpoints of Indian airports. To secure Indian skies, BCAS is committed to promote a strong and effective aviation security culture.
During the 'Aviation Security Week', BCAS has planned to undertake various activities in the civil aviation including:
Setting up of information booths and kiosks in the forecourt area and terminal buildings including cargo terminals.
Announcement in aircraft
Placing cards mentioning security awareness contents at different places in the airport environment.
Insertion of the tagline in the ticket related SMS/mails/WhatsApp from the aircraft operators.
Insertion of the tagline in the ticket by OTAs.
Short films for displaying at departure hall.
Pop-up regarding aviation security culture week on their websites.
Organizing quiz wherein passengers should be encouraged to participate
Signature boards for signing by interested passengers.
Dog Squad shows by CISF on daily basis during the week.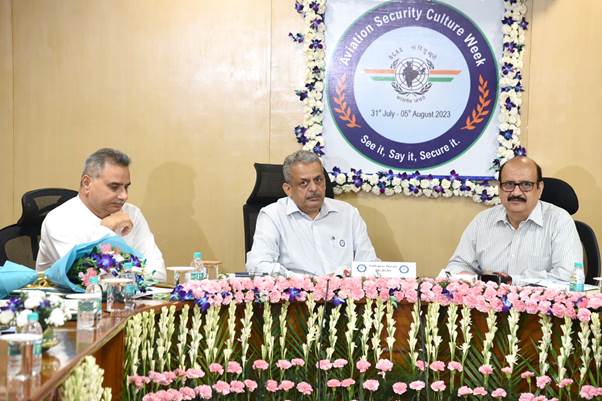 Capt. Shri Devi Sharan, senior aviator and instructor in Air India, famously known as the Captain of the flight IC-814, hijacked to Kandahar in 1999, was the chief guest in the event. Shri Anil Sharma, head of cabin team and chief purser of IC-814, was the guest of honour in the event.
Both shared their experience of IC-814 and complemented BCAS for their continuous effort in ensuring no such incident take place again.
Aviation security culture refers to the collective beliefs, attitudes, and behaviors of individuals within the aviation industry and among the air passengers related to security practices and procedures inherent in the daily operation of airports and flights.
—-