Union Minister Shri Parshottam Rupala inaugurates Camel Product Processing Utilisation & Training Wing at ICAR-National Research Centre in Bikaner
During the visit, the Shri Rupala interacted with pastoralists, pastoral community, scientists, and domain experts to discuss the significance of the product processing wing and its benefits for the pastoral community The Product Processing Utilisation &
During the visit, the Shri Rupala interacted with pastoralists, pastoral community, scientists, and domain experts to discuss the significance of the product processing wing and its benefits for the pastoral community
The Product Processing Utilisation & Training Wing has been inaugurated to explore the immense opportunities in the camel product processing sector
The Minister also visited the Rashtriya Sanskriti Mahotsav, a National Cultural Festival of India conceptualized by the Ministry of Culture in 2015 to celebrate the spirit of Tradition, Culture, Heritage, and Diversity of India
The Mahotsav showcased traditional, tribal, classical folk and popular art forms of India and promoted the heritage of Indian Spirit & reconnect the new generation with our culture
Shri Parshottam Rupala, visits ICAR-Bikaner, Rajasthan for the inauguration of the 'Camel Product Processing Utilisation & Training Wing' at the centre
Union Minister of Fisheries, Animal Husbandry and Dairying, Government of India, Shri Parshottam Rupala, visited Bikaner, Rajasthan for the inauguration of the 'Camel Product Processing Utilisation & Training Wing' yesterday at the ICAR centre. ICAR – Bikaner which is a Premier Research Centre and an autonomous organisation under the Department of Agricultural Research and Education, Ministry of Agriculture and Farmers Welfare, Government of India. Considering the importance of camel in the socio-economic development of arid and semi-arid zones, the Government of India established a Project Directorate on Camel at Bikaner (India) on 5th July 1984 under aegis of Indian Council of Agricultural Research (ICAR) which was upgraded to National Research Centre on Camel (NRCC) on September 20, 1995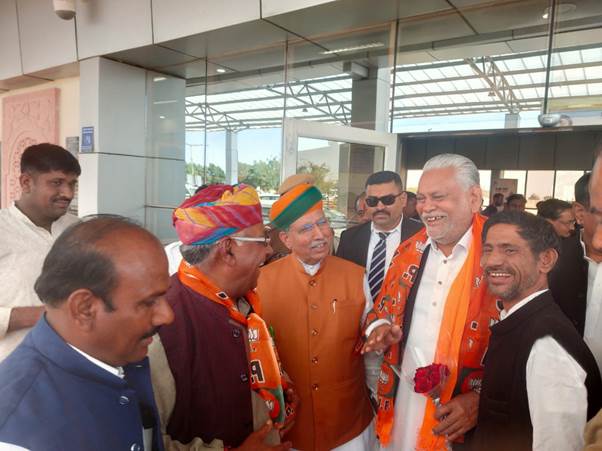 The Centre has been identified as one of the important tourist places of Bikaner and is included in the tourist book. A camel museum is available to apprise them of the developmental and research aspects of the camel in the desert ecosystem. Every year thousands of Foreign and Indian tourists visit the centre.
The Product Processing Utilisation & Training Wing at the centre has been inaugurated by taking into consideration the immense opportunities that this sector holds.
On the day of the visit, Shri Parshottam Rupala interacted with pastoralists and pastoral community at the research centre. Further, the Minister also visited the facilities of the institute and had interactions with the scientist and domain experts. Detailed discussions followed on the significance of inception of this product processing wing and the ways in which the same shall benefit the pastoral community.
While inaugurating the training wing, Shri Parshottam Rupala said, 'With the Animal Husbandry sector emerging as one of the diversified drivers of economic growth and rural income, there is a need for technological infusion, public investments, and policy reforms. Further, the Union Minister also said that this centre is not only beneficial to the pastoral communities in the state of Rajasthan, but India as a whole. The Ministry aims to work in tandem with the stakeholders for continued growth of the livestock sector, he added.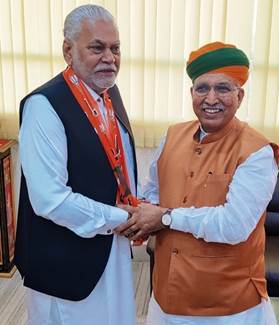 Shri Parshottam Rupala interacted with various dignitaries present at the Rashtriya Sanskriti Mahotsav. He said, 'Such events provide a good opportunity to interact with and showcase eminent and unique culture of India across domains. These events also bring together people from different areas of work to come together on one platform to share their ideas, network, and learn from each other, he added.
Post the inauguration session, later during the day, the Minister also visited the Rashtriya Sanskriti Mahotsav, which was organized by Ministry of Culture, Government of India. Rashtriya Sanskriti Mahotsav (RSM), the National Cultural Festival of India was conceptualized by the Ministry of Culture, Government of India in 2015 to celebrate the spirit of Tradition, Culture, Heritage, and Diversity of our incredible country. Apart from the broader objective this Mahotsav aims to Preserve, Promote & Popularize the heritage of Indian Spirit & reconnect the new generation with our culture and to showcase to the country and the world our soft power of unity in diversity.
The Mahotsav witnessed a large gamut of traditional, tribal, classical folk and popular art forms of India. There were approximately more than 1000 artists & artisans (including self-help groups and entrepreneurs) representing their start-ups). Exclusive exhibition of Phad Paintings (Devnarayanji, Pabuji, Ramdeoji and Karni Mata) were the centre of attraction at the Mahotsav. Prominent artists like Padma Shri Hans Raj Hans, Malini Avasthi, Maithili Thakur, Gulabo Sapera were also present for their concerts.