Indian Railways organizes two-day Chintan Shivir at New Delhi
Shri Ashwini Vaishnaw presided over the sessions Senior officers from Railway Board, Zonal Railways and PSUs attended the event Objective of the Chintan Shivir centered on preparing an action plan to implement Prime Minister Shri Narendra Modi's
Shri Ashwini Vaishnaw presided over the sessions
Senior officers from Railway Board, Zonal Railways and PSUs attended the event
Objective of the Chintan Shivir centered on preparing an action plan to implement Prime Minister Shri Narendra Modi's "Vision 2047"
Ministry of Railways organized a two days long Chintan Shivir on 1stand 2nd June, 2023 at Manekshaw Centre, New Delhi. Minister of Railways Shri Ashwini Vaishnaw presided over the sessions today. Ministers of State for Railways, Shri Raosaheb Patil Danve and Smt Darshana Jardosh also graced the event. Chairman & CEO, Railway Board Shri Anil Kumar Lahoti, Members of Railway Board and other officers, including youngsters, from Railway Board and all Zonal Railways participated in the event. Approximately 400 participants from Zonal Railways, PUs, PSUs, CTIs, RDSO etc took part in this mega event.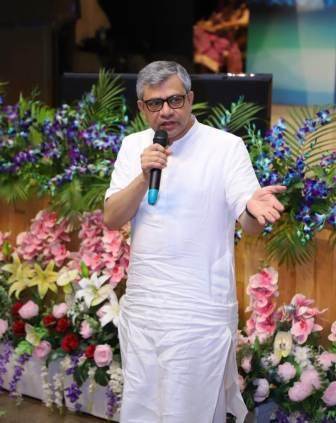 The objective of the Chintan Shivir was to brainstorm on finding new ways and methods and adopt innovative ideas to achieve commissioning of more track/year (New line, GC & Multi-tracking), higher loading per Day, achieving 160 Kmph on 50% routes, and attaining Zero Consequential Accidents and reduction in CRO & MRO by 90%.
Speaking on the occasion Shri Ashwini Vaishnaw, Minister of Railways emphasized on Rail Safety, and adoption of newer technologies. Also he urged officers to ponder over increasing train speed to 160 kmph for 30,000 Rkm. He also stressed upon Railways' role in Indian Economic growth.
Shri Vaishnaw urged officers to devise method to cater to 1100 Crores passenger annually and how congestion can be dealt. He also urged officers to adopt new technology and adopt the lessons learnt from ongoing Bullet Train project. He added that Vande Metro design has been finalised. The Minister said that action points from the deliberations should be culled out and action will be taken on them in time bound manner.
Four to Five teams headed by General Managers of different zonal Railways gave their presentations and new ideas on each topic. Each team comprised of members from PUs, PSUs, RDSO & CTIs also. Nominated Board Member/DG finalized topic-wise final presentation-road map for implementation. Four final presentations were held in Zorawar Auditorium of Manekshaw Centre during the last session.
The objective of the Chintan Shivir was to review the work of the Ministry of Railways and evolve an action plan to implement Prime Minister Shri Narendra Modi's "Vision 2047". Railways has been working with ethos of 'Pai Pai Se Gareeb Ki Bhalai' and is determined to give the best services with utmost safety, and security at most affordable cost for every citizen of the country. The two-day Chintan Shivir event witnessed deliberation on various issues and boosting Railway's pace further in making New India.
—-