First Inter-Ministerial Committee Meeting held on World Food India 2023
Secretary, Food Processing Industries (FPI) Smt. Anita Praveen, chaired the First Inter- Ministerial Committee Meeting with senior representatives from Ministries/Departments/Boards on Tuesday 16th May 2023 in New Delhi. The agenda of the committee meeting was
Secretary, Food Processing Industries (FPI) Smt. Anita Praveen, chaired the First Inter- Ministerial Committee Meeting with senior representatives from Ministries/Departments/Boards on Tuesday 16th May 2023 in New Delhi. The agenda of the committee meeting was to apprise the officials of preparation made so far for World Food India 2023 and discuss participation of respective Ministries/Departments/Organizations in the event. This was in continuation to series of interactions held to apprise the Ministry's plan of action for the upcoming World Food India 2023 and discuss potential areas of collaboration. The roundtable witnessed participation from the senior officials of key central government ministries and departments.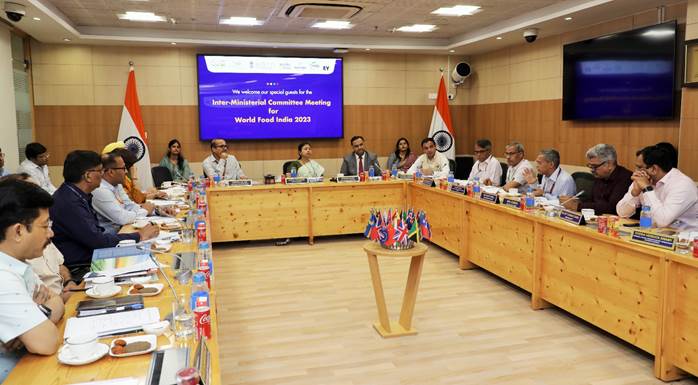 During her address, Secretary, FPI requested the officials to share specific plan of action regarding their participation/partnership in the Mega Food Event that is being organized between 3rd and 5th November 2023 in New Delhi.
All central ministries and departments were requested to share suggestions on the planned sessions of World Food India and participate in the event actively as well as support the Ministry in awareness creation on the relevant Department's social media handles, embark participation of senior policy makers, industry members, SHGs and all relevant stakeholders to make the event a grand success.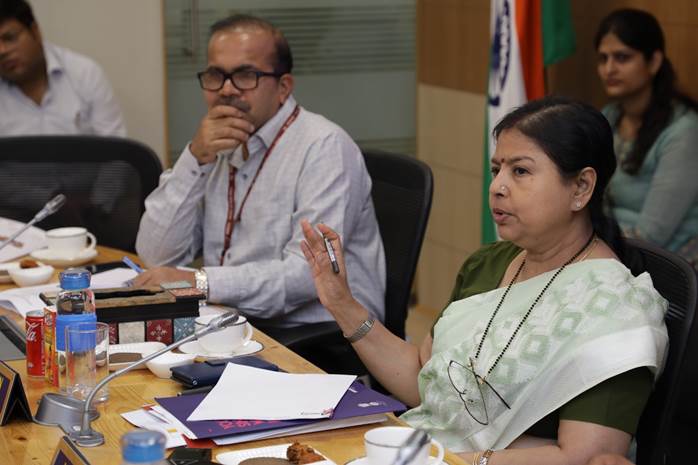 Further, the participating officials assured support to Ministry of Food Processing Industries
(MoFPI) through technical/sectoral sessions, investment-oriented sessions with Ambassadors and High Commissioners, buyer seller meets/RBSMs, engagements with startups/IPRs/ONDC, promotion of Ayush Aahar products and GI products. Some of the suggestions / feedback given by the officials included ensuring participation from exporters associated with the respective boards.
Secretary FPI concluded her remarks by urging all stakeholders to join hands in making the event a success by leveraging their respective strengths and extending additional support. The next meeting of the Inter-Ministerial Committee is expected to be held in June 2023 to firm up concrete partnership/participation of different stakeholders.
Further, the Investment Facilitation Cell (Invest India) and the event partner (FICCI) were directed to coordinate with the respective ministries and departments for facilitating the discussed action plan and seek necessary support from government bodies.
—-